The largest folk event in Italy since 1873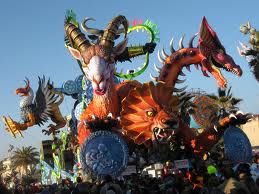 The largest folk event in Italy since 1873
The idea of a parade of decorated carriages to celebrate Carnival came to a group of young viareggini who habitually frequented the casino coffee. On February 24, 1873, the day of Mardi Gras, at the historic Via Regia in the center of the old town, there was the first of the Carnival parade that was to become the most important event of the city. The reputation of the course grew masked with increasing the size of the floats built by carpenters and blacksmiths with wood, plaster, jute and other recycled materials sometimes brought from the sea and at the end of century, the event moved to the promenade so they can enjoy more space.


In 1921 was the first turning point: A first chariot was accompanied by music making to board a marching band. That year the song became the official anthem of the event and the music, followed by the dance, became the protagonist in the following editions. The second breakthrough came two years later. In 1923, the animated motion one of the wagons: The melancholy Pierrot the art teacher Giampieri blinked. From then on the wagons they would always take more exercise. But the greatest revolution there was in 1925 when one of the builders, Antonio D'Arliano, invented to cast paper, then known as papier-mâché. A low-cost material (made from simple newspaper) extremely light and shape that gave the green light to the creation of gigantic buildings and increasingly bold in handling. In 1930, the brainchild of the Futurist painter Uberto Bonetti, born Burlamacco: The mask symbol of Viareggio which will promote the Carnival in Italy and in the world. In Bonetti mask summarized the two main moments of Viareggio at that time: the summer with white and red colors typical of the umbrellas on the beaches Thirty years and Carnival merriment.

After the stop of a few years due to World War modiale, in 1946 Carnival resumed its course, and in 1954 was chosen as a media event to be transmitted live on television on Rai newborn. In 1958 even in Eurovision. In 1984 the Italian lottery was combined with the competition of floats and in the biennium 1988-1989 television on Saturday evening during Carnival was dedicated to Viareggio party. Still the course of Mardi Gras is broadcast live on RAI-3, the television screens of all Italian breaks with the spectacular joy of its floats and thousands of people cheering participating in the Carnival of Viareggio. A whole month of daytime and nighttime celebrations, with parades of gigantic floats, local parties, masked balls and festivals of all kinds to continue the tradition of an incredible feast that warms the hearts of all Versilia.