The story of our Hotel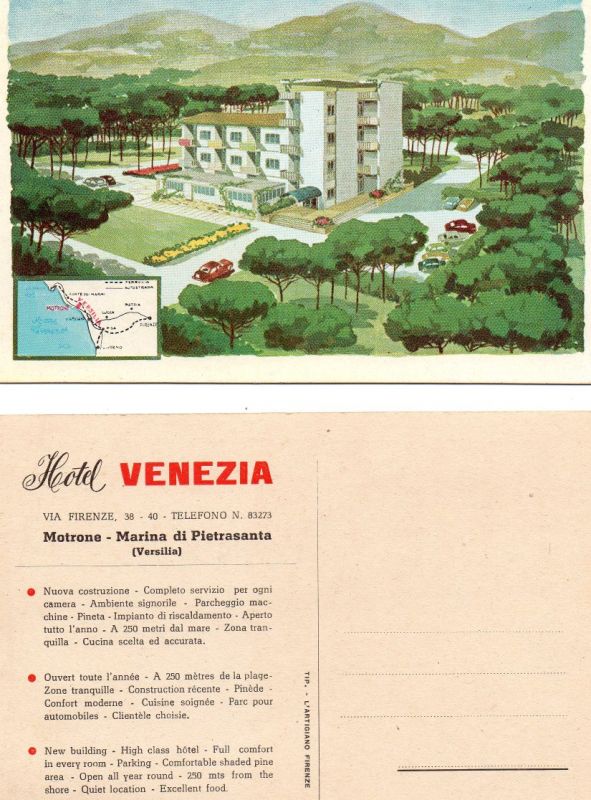 The story of our Hotel
At the end of the 1950s, in the early years of the Italian economic boom, Versilia was already a well-known tourist destination and well on the way to becoming one of Italy's most famous seaside resorts.

A building contractor called Duilio Matteucci, born and bred in Versilia, (and the present owner's grandfather) was entrusted with a very important project: to build a large hotel at the Marina di Pietrasanta, close to the sea and surrounded by quiet pinewoods. 1958 was a productive year.



The client and owner of the site, a Veneto businessman attracted by the beaches, natural beauty and tranquility of our area, unfortunately passed away the following year, just when the hotel was nearing completion.



The builder, Duilio Matteucci, was actually a specialist in other fields. Nevertheless, he decided he would focus on tourism, at some financial hardship to himself, as he realised the business had all the right features to provide excellent accommodation and hospitality. He decided to dedicate the name of the hotel to the memory of its original exponent, and so he called it after this gentleman's city of origin: Venezia (Venice).



In 1976, the management of the hotel passed to Duilio's twenty-five-year-old grandson, Giancarlo Baldini, who dedicated himself to continuing the family activity. As a resourceful entrepreneur, he built up the business as a high quality concern, making the hotel one of the very best in the area.



Nearly forty years on, Giancarlo Baldini is still running the hotel with the same enthusiasm and dedication. His children have been working with him for some time now; they are as determined as their father to carry on the family tradition of hospitality, which had its beginnings more than sixty years ago.